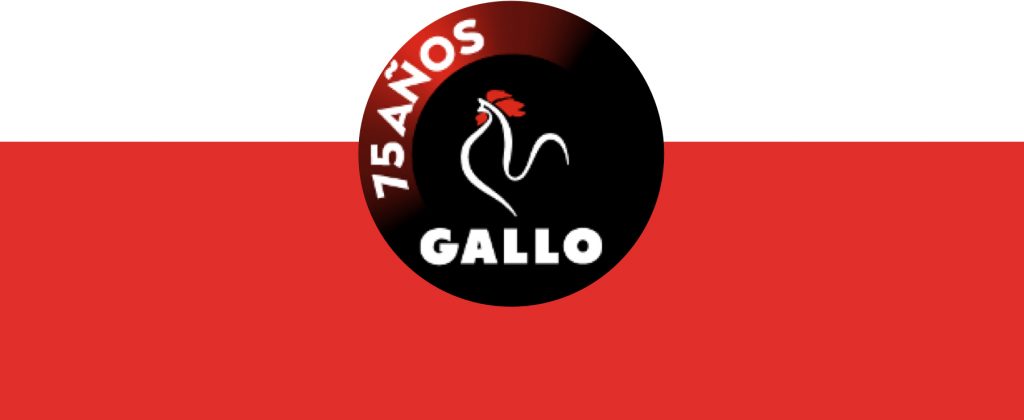 At Pastas Gallo we have spent our whole life by your side, innovating and choosing the finest wheats so you can have only the best products for your dishes. Thanks to your loyalty throughout these years we are celebrating our 75th anniversary. And we do so by looking back and feeling proud of the path travelled by your side. But also by looking forward, focusing on the now and anticipating the challenges of the future.
Writing the history of pasta together since 1940
Pastas Gallo is the dream come true of a young entrepreneur, José Espona. In 1946, when he was only 20 years old and having borrowed 15,000 pesetas from his father, he bought a flour factory in Rubí (Barcelona). At the time, all pasta producers worked exclusively with common wheat, but José Espona was about to break the mould. His innovative character paved the way for the introduction of durum wheat into Spain. He convinced many farmers to start cultivating this new variety of wheat in Spain and planted the seeds of what, years later, would make our products truly unique. 
1956: The first semolina milling plant in Spain
From 1946, Gallo started buying various flour factories and built the first semolina milling plant in Spain in 1956. This was just the beginning of an innovation process that would forever change the way in which we eat pasta in Spain. In 1958, when there was barely a market for pasta in Spain, Gallo bought an old mill in El Carpio and turned it into a pasta factory. A little more than a decade later, Pastas Gallo could be found in more than 100,000 retail outlets all over Spain. 
Driven by his constant desire to learn, José Espona thoroughly researched and studied the secrets of the best pasta around the world. He discovered that there are more than 500 varieties of wheat and learnt that a good pasta means, above all, a good grain of wheat. In 1960, we bought semolina milling plants all around Spain and started to produce pasta with the finest varieties of durum wheat. 
During the 1970s, we established ourselves as a leading brand and continued to innovate in the sector by launching our new specialty pastas with ingredients like egg and vegetables. In 1988, the great actress Sophia Loren joined our adventure as brand ambassador and agreed to star in our TV commercial only if she liked the product. No sooner said than done. We sent pasta to her home and a few days later we were recording the first of many commercials during our collaboration. These commercials were key to letting the world know that Gallo is a pasta that everyone likes and that never disappoints. 
At the forefront in the 21st century
In the 21st century, we carry on Espona's legacy by pursuing market differentiation. Innovation, quality and a constant willingness to tackle new challenges are intrinsic parts of Gallo's DNA. In the last few years we have continued to take on new challenges, such as our range of pasta for salads, made with the finest durum wheat and a selection of dehydrated vegetables as ingredients. This range undergoes an exclusive drying process that keeps the pasta fresh even hours after cooking. Another key milestone was the launch of our gluten-free product range (2004), which was created so that everyone can enjoy the flavour and texture of Gallo's classic pasta, and the launch of our wholemeal pasta varieties and a range of classic pasta that can be cooked in just 3 minutes (2013) especially designed so those who have less time to cook can still enjoy the authentic flavour of their favourite pasta. In 2015, our factory in Esparreguera (Barcelona) became the only factory in the country to produce exclusively gluten-free pasta. At Gallo, in order to guarantee the highest quality, we have designed a specific production process for each product family. This way, we achieve our unique texture and mouth-watering flavour. 
75 years committed to excellence
75 years of history demonstrate our leadership in the market, not only when it comes to sales, but also when it comes to quality, innovation and our commitment to a healthy diet. This commitment is guaranteed by using our own cultivated and 100% locally-sourced varieties of durum wheat, and by carrying out comprehensive controls throughout the production process at all of our factories. Therefore, we can guarantee that only the finest selection of wheats make it to your table.
Nowadays, our products are distributed in more than 40 countries. Dried and fresh pasta, filled, pasta made with 100% legumes, gluten-free pasta, sauces, flours, breadcrumbs… Pastas Gallo's family hasn't stopped growing in all these years. Throughout these 75 years, we have been one step ahead of the ever-changing needs of our customers by creating innovative products and blazing a trail in the world of pasta. And today, when we blow out the candles on our birthday cake, we will make only one wish: to continue growing, innovating and writing the history of pasta by your side for many years to come. Thank you for being part of this adventure.